"

"Soft Rain is thoughtful, deep, beautifully written and recorded as it plumbs the depths of our shared universal loss while pointing to hope. Nordquist, Siler, Wood, and Baroni have captured an intimate healing and worshipful experience for those who are grieving, which is all of us on some level. A worthy freshman release from a talented singer who has a lot more than a voice to share with the world!"" - John Chisum
— President, Nashville Christian Songwriters
"

"I loved these songs! Soft Rain is a very therapeutic album!" - Hedi Austel
— Author of 'Discovering God's Grace in Depression'
"

"It's amazing how certain songs can bring comfort and a sense of peace during a difficult season. Becky's Soft Rain is a such song. Let the melody wash over you, soak in the lyric , and receive the grace this song offers." - Scott Krippayne
— CCM Recording artist, writer of 16 #1 songs, and American Idol Song Contest winner
Becky Nordquist is not a stranger to trauma, grief and loss. Her writing and speaking breathe with the transparency of someone who has traveled the roads of suffering and found redemption. 
Becky has wrestled with God in the dark places of faith that allow us to know Him in a deeply intimate way. Nothing ignites her passion more than leading those who are hopeless and lost, wondering and wandering to know that God is in the midst of their suffering and that His grace is sufficient for every heartache.
 A gifted author, speaker, songwriter, and recording artist, Becky speaks and sings at conferences, seminars, retreats, community settings, and is known for her passionate and insightful ability to communicate.
"Becky Nordquist speaks and writes from a deep wellspring of personal pain and passion, for the healing power of the Word of God. She brings authenticity, wisdom, power, warmth, and rare transparency to issues we all face-identity, suffering, trauma, resilience, and finding purpose in our bleakest moments."
Shelly Beach, multiple-award winning author of Love Letters from the Edge
"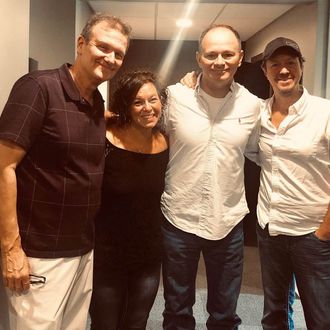 "Heaven's playground"
(Pictured left to right: Steve Siler, Becky Nordquist, Tony Wood, Kent Hooper)
Wonderful day in the studio recording 'Heaven's Playground'.
So very excited to share this with you Please continue to pray that we receive the rest of our funding for this non-profit project! To donate your tax deductible gift, go to...
www.musicforthesoul.org